Whilst much of the world is fighting bitterly to reduce the harm we're doing to the planet, the most religious countries are still growing their populations at staggering rates1. Different religions have had various stances on procreation: the Cathars considered the world so corrupt that they abstained from all sex2,3. But religions that had a doctrine of having as many babies as possible were always destined to be successful for simple Darwinian reasons: The largest organized religions today are all anti-birth-control4, often using their weighty influence and resources to oppose birth control, prevent family planning and restrict women's rights5. They are most successful in developing countries that lack strong governments, where women's rights are poor, and in countries where religious groups loom large in the education sector. Together, these campaigns are doing immense harm to the planet, to human society, to womankind and to our future generations.
#demographics #education #fertility #life #population
Since 1930 the world's population has risen from 2 billion, and now approaches 8 billion. There are many people alive today who have seen our numbers triple in their lifetime, and a growing number of people who have seen it quadruple. Food production and infrastructure is not keeping up in a sustainable manner, and we are damaging the Earth, and as a result we are harming future generations. Almost all progress in energy efficiency, waste avoidance and pollution reduction go towards servicing our ever-increasing numbers rather than improving our situation. We are not going to be saved by luck or by miracle - "demographic changes are much more certain than many other long-term predictions" writes one sociologist6 - we need to put effort into stabilizing population growth. The United Nations reports that, in particular, improved education (especially women's) brings down uncontrolled growth7. Wherever possible, we need to keep spreading the message about maintaining sensible birth rates, and countries with lower rates need to accept migration from elsewhere, in order to smoothen out the demographics crises.
For more, see:
2. Religious Countries Are Pushing Population Growth
The infographic below shows the relationship between population growth and religiosity. All countries with very high population growth are also very religious, and almost all countries with sensible population growth are not very religious (Puerto Rico is an exception)1.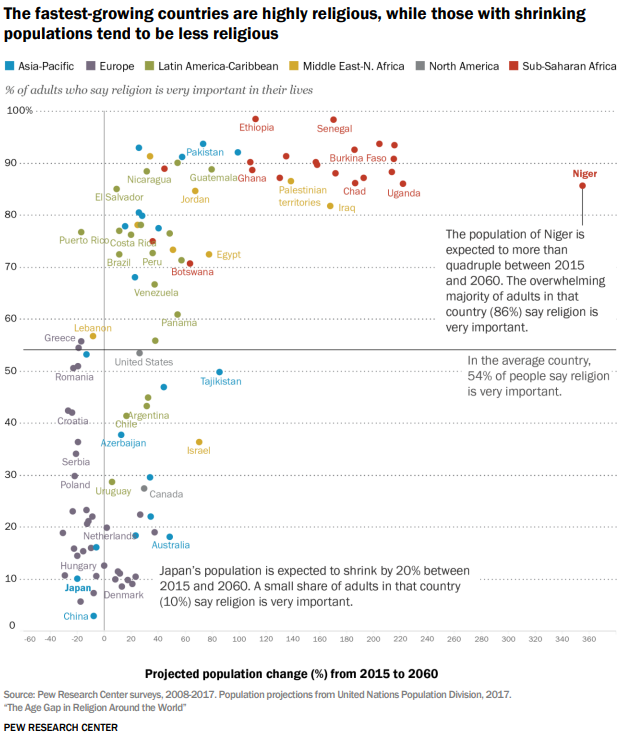 Source: Pew Research Center1
It's not as simple to jump to the conclusion that reducing religious belief directly reduces birth rates. To explain, religion declines with both good education and increased prosperity. But it still stands that religious organisations put a great deal of effort and money into campaigning against family planning measures and women's rights, which will clearly exasperate any rates of low education or poverty in a community, making it triply difficult to develop sustainably.
#AIDS #birth_control #disease #dogma #health #hiv #philippines #population #rcc #religion #religion_sex #sex #sexuality
Few people doubt the severity of the problem that overpopulation presents for this planet. Its consequences are poverty, famine, disease and death, sometimes on very large scales. Minor problems include overcrowding, strained infrastructure and social instability. By facilitating contraception and women's medical services we enable family planning. "Allowing women to plan their pregnancies also leads to healthier outcomes for children. A recent study showed that if all births were spaced at least two years apart, the number of deaths among children younger than five would decline by 13%. The number would decline by 25% if there were a three-year gap between births"8. Making birth control accessible to all is a moral requirement for anyone who has the power to help. It is inconsistent, for example, to say that contraception and abortion is "murder" whilst ignoring the fact that poverty and overpopulation are far bigger killers.
Aside from population control, "the health benefits of contraceptive use are substantial. Contraceptives prevent unintended pregnancies, reduce the number of abortions, and lower the incidence of death and disability related to complications of pregnancy and childbirth"8. The numbers of abortions that are prevented by contraception is staggering. A Guttmacher Institute report on the developing world predicts that "in 2012, use of modern contraceptives in the developing world will prevent 218 million unintended pregnancies, which, in turn, will avert 55 million unplanned births, 138 million abortions (40 million of them unsafe), 25 million miscarriages and 118,000 maternal deaths. It will also prevent an estimated 1.1 million neonatal deaths (those within 28 days of birth) and 700,000 postneonatal infant deaths (those from 28 days to one year of age)"8. Condoms help prevent the spread of disease - their effect is strong enough that long-term use by a community can gradually eradicate strains of sexually transmitted diseases from the community. Venereal disease causes unimaginable suffering and can affect the purely innocent. Babies are frequently infected with the diseases of the parents; in this way, the prevention of disease with contraception is vital because once women in a local area are infected with a disease, children will also be directly infected. In the case of incurable diseases, such an event can lead to unsurmountable suffering. Such a terrible state of affairs is prevented by the correct use of contraceptives such as condoms. The number of women with unmet needs for contraception in the developing world is still increasing - between 2008 and 2012 the figure rose from 153 million to 162 million8. Those 69 countries are the ones that are least able to support growing populations.
"Some of the religious traditions have presented recurring obstacles to open discussion of certain kinds of birth control at UN population conferences. These religious groups are associated largely with Islam, Roman Catholicism, and evangelical Christianity."
Religious opposition to abortion, birth control and contraception: Despite the practical necessity of birth control, the benefits of disease prevention, the moral responsibility we have towards the future of our children and the responsibility we have with regards to the stewardship of our planet, many religions have opposed birth control for various superstitious reasons. On the other side of the fence, it is worth knowing that all of the pioneers of contraception were freethinkers10,11 (that is, people who are opposed to the influence of organized religion on people´s opinions and beliefs). Why have religions determined to prevent family planning? The answer is in a kind of survival of the fittest amongst religions themselves. As most religious people simply abide by the religion of their parents12, religions that encourage parents to have more children will attain a stronger and longer-lasting base of adherents. Barber (2011) notes that religions promote fertility by encouraging marriage at a much earlier age than amongst the non-religious13.
Bearing this out is Catholicism, which has an infamously strict suite of dogmas that forbid all kinds of birth control. The Roman Catholic Church is the most notable, powerful and active organisation that lobbies against birth-control wherever it can, internationally. Thankfully Most Catholics routinely ignore the Church on this issue, especially in educated and developed countries, but there are still plenty of fast-growing countries where the Catholic Church is still prospering the old-fashioned way. It took the government of the Philippines 13 years to force through legislation to allow government-funded contraception and for sex education in schools because of the strength of the opposition of the Catholic Church there - in a country where 11 women die of pregnancy-related problems every day. The Catholic Church "ferociously" opposed it, warning of moral and social collapse, the destruction of family life, and divine wrath, if it was passed. The bill is considered "a major step toward reducing maternal deaths and promoting family planning in the impoverished country, which has one of Asia's fastest-growing populations. [...] The United Nations said early this year that the bill would help reduce an alarming number of pregnancy-related deaths, prevent life-threatening abortions and slow the spread of AIDS"14.
For more, see: